Bubble Regulator
Bubble Regulator
Fujian, China

According to product order quantity

According to product type
Bubble Regulator
Produnct Details
PRODUCT NUMBER: 322081216
PRODUCT NAME: FOAMING AIR HOLE REGULATOR AGENT
STANDARDS: P533, P-530
PRODUCT NOTICE: WIDELY USED IN PVC SHOE PRODUCTS. ALL TECHNICAL INDICATORS REACH THE FOREIGN PRODUCTS SIMULAR STANDARD LEVEL.
PRODUCT CATEGORY: PVC FOAMING REGULATION AGENT
PVC FOAMING REGULATION AGENT P533, LP-530 IS DISTRIBUTED FROM A WORLD FAMOUS CHINESE MANUFACTURER. CONTAINING A MULTI-LEVEL STRUCTURE ULTRA-HIGH MOLECULAR POLYMERS, IT IS MADE BY WAY OF ACRYLIC MONOMER MULTI-STAGE EMULSION POLYMERIZATION. IT IS WIDELY USED IN PVC EXTRUSION LOW FOAMING PRODUCTS. ALL TECHNICAL INDICATORS REACH THE FOREIGN PRODUCTS SIMULAR STANDARD LEVEL. 1. PHYSICAL AND CHEMICAL PROPERTIES
IT IS A WHITE FLOWING POWDER, HEAP RATIO 0.40-0.50g/cm3, NON-SOLUBLE IN WATER, ETHANOL, SOLUBLE IN CHLOROFORM.
2. APPLICATION CHARACTERISTICS
Adding foaming regulation agent into the PVC shoe foaming products will increase PVC gelatination, improve thermal melting coefficient and extensibility, improve the surface quality of the final product, bubbles, formed by the foaming agent, are stable, they won't crack and mix together forming bigger bubbles, thus, the final foam has got both high density and good hardness. This product is mainly used for PVC injection molding foam shoes, pipes and other abnormal form materials , can replace K-125, K-400, PA-30, P-530, PA-828, 20F and other similar foreign products, the actual application effect is as follows :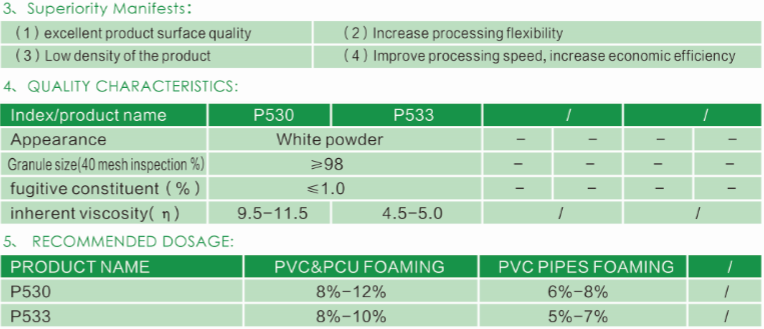 6、Packaging, transportation and storage
Product is packed in plastic transparent bags from inside and plastic white woven bags from the outside, with the product certificate inside. Trademark, factory name, NET weight and product batch number must be printed on the product external package. This product is non-toxic, non-corrosive solid powder, belongs to non-dangerous goods. Should be transported according to non-dangerous goods standards. Must be kept away from scorching sunlight or heavy rain. Product should be stored in a cool and well ventilated place. Storage period is 1 year. After 1 year a performance test must be made. If no changes were detected during the test, product is allowed for further use.
Questions:
1.What is your Payment term?
---TT.
2.What is your Trade term?
---EXW,FOB.
3.What is the Loading Port?
---Xiamen & GuangZhou
4.Can I get the few sample before place order?
---Yes, we can offer few samples.
5.MOQ?
---25KG
6.Regard Transport?
---Order QTY 1-5 KGs, we usually choose DHL as the express company. It is to be noticed that the transporting fee would be paid by buyers and could be refunded if buyers take orders.
---Order QTY 6-100000 KGs goods, send by sea.
7.How long we will send out goods?
---Depends on the quantity and the requests of customers.